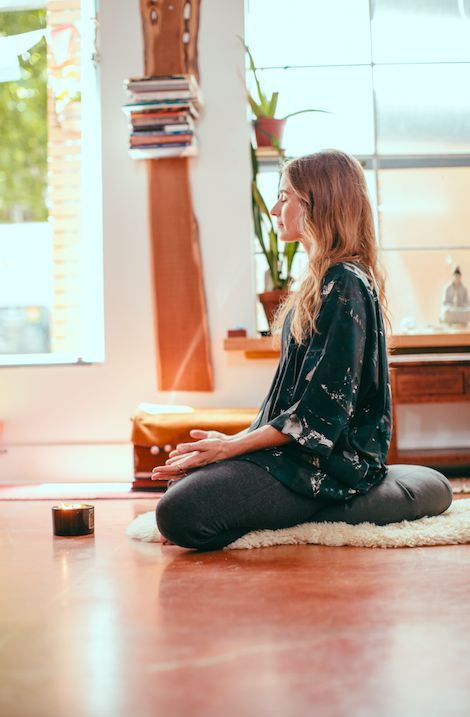 Transcendental Meditation was discovered by Maharishi Mahesh Yogi. This is a very simple and natural meditation method. We do not have to make any effort in this meditation, it starts happening automatically. This meditation method is also very similar to Mantra meditation because we use some special mantras in it. So, here let's know more about Transcendental Meditation mantras and benefits.
What Is Transcendental Meditation?
Transcendental Meditation, which is a topic of much discussion in India and abroad today. This transcendental meditation is a form of mantra yoga or chanting yoga. The seer mentally chanting the words of a guru, sitting calmly.
It is a kind of Hindu Meditation, which keeps closing the thoughts inward. There is no emphasis on the brain in this process. Thoughts continue to be extroverted, but the frequency of the mantra continues, the lips and the tongue are usually closed.
In this way, in this instrument, except the frequency at the mental level in the form of just words (mantras). No other type of control or pressure on the mind is required.
Specifications Of Transcendental Mediation:
Transcendental meditation does not require any effort in this meditation method.
Transcendental meditation does not require any concentration in this meditation
In Transcendental meditation, you do not even have to control the mind.
One does not have to focus on anything.
This meditation is scientifically certified for depression and peace of mind.
Methods To Do Transcendental Mediation:
In order to practice meditation, we have to register the name of this meditation method by visiting the official website, and the same teacher tells us about this meditation method.
Transcendental meditation methods can be done anytime and anywhere.
This attention is increasing very fast around the world.
We have to do 20-20 minutes in the morning and evening meditation method.
While doing this meditation we also have to chant some mantras. Which are given to us by the institute.
Benefits Of Transcendental Meditation:
There are many benefits of Transcendental Meditation. It makes our minds very calm and our body very light. The popularity of the transcendental meditation method is increasing day by day. This meditation method can also be attested by scientists. Even abroad, big institutes have been opened to teach this meditation method. Where the teachers who are proficient in this method teach this meditation method. So, see the benefits here…
Doing this meditation can avoid depression.
Transcendental meditation balances our blood pressure and provides total protection to the heart.
This meditation continuously generates energy in our body, which keeps us full of energy throughout the day.
It takes the brain's working power and creative power to an extreme level.
Relieves insomnia disease.
By doing meditative meditation, our body, mind, and brain become fully healthy.
More Recommended Articles :-
Transcendental Meditation Mantras:
The practice of transcendental meditation is the best medium for stress management. Students can use their subconscious brain more and more in their study and creative work by its regular practice. This mantra to achieve health and success. So, let's see the Transcendental Meditation Mantras…
Transcendental Meditation Mantras Used by TM Teachers Trained in 1961:
Mantra for male students –Ram
Mantra for female students – Shiram
Transcendental Meditation Mantras Used by TM Teachers Trained in 1969:
Mantra for male students aged 0 to 15 – Ing
Mantra for male students aged 15 to 30 – Aing
Mantra for male students aged 30 to 45 – Shiring
Mantra for male students aged 46+ – Shiam
Mantra for female students aged 0 to 15 – Im
Mantra for female students aged 15 to 30 – Aim
Mantra for female students aged 30 to 45 – Shirim
Mantra for female students aged 46+ – Shiama
Transcendental Meditation Mantras Used by TM Teachers Trained in 1972:
Mantra for students aged 10 to 11 – Ing
Mantra for students aged 12 to 13 – Im
Mantra for students aged 14 to 15 – Inga
Mantra for students aged 16 to 17 – Ima
Mantra for students aged 18 to 19 – Aying
Mantra for students aged 20 to 21 – Ayim
Mantra for students aged 22 to 23 – Ayinga
Mantra for students aged 24 to 25 – Ayima
Mantra for students aged 25+ – Shiring
Transcendental Meditation Mantras Used by TM Teachers Trained in 1976:
Mantra for students aged 3 to 10 – Eng
Mantra for students aged 10 to 12 – Em
Mantra for students aged 12 to 14 – Enga
Mantra for students aged 14 to 16 – Ema
Mantra for students aged 16 to 18 – Aeng
Mantra for students aged 18 to 20 – Aem
Mantra for students aged 20 to 22 – Aenga
Mantra for students aged 22 to 24 – Aema
Mantra for students aged 24 to 30 – Shiring
Mantra for students aged 30 to 35 – Shirim
Mantra for students aged 35 to 40 – Hiring
Mantra for students aged 40 to 45 – Hirim
Mantra for students aged 45 to 50 – Kiring
Mantra for students aged 50 to 55 – Kirim
Mantra for students aged 55 to 60 – Shiam
Mantra for students aged 60+ – Shiama
Transcendental Meditation Mantras Used by TM Teachers Trained in 1987 to Present Day:
Mantra for students aged 0 to 11 – Eng
Mantra for students aged 12 to 13 – Em
Mantra for students aged 14 to 15 – Enga
Mantra for students aged 16 to 17 – Ema
Mantra for students aged 18 to 19 – Aing
Mantra for students aged 20 to 21 – Aim
Mantra for students aged 22 to 23 – Ainga
Mantra for students aged 24 to 25 – Aima
Mantra for students aged 26 to 29 – Shiring
Mantra for students aged 30 to 34 – Shirim
Mantra for students aged 35 to 39 – Hiring
Mantra for students aged 40 to 44 – Hirim
Mantra for students aged 45 to 49 – Kiring
Mantra for students aged 50 to 54 – Kirim
Mantra for students aged 55 to 59 – Sham
Mantra for students aged 60+ – Shama